Divine Love Triptych designs are available in a set of six large glossy cards (two of each design). $30.00.

Go to CARDS.
To see large images,
go to GALLERY
.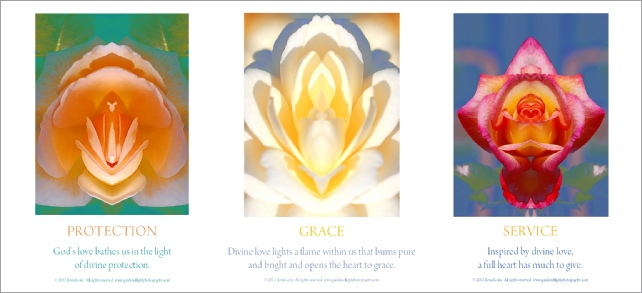 Buy any four 8.5 x 11 prints and receive free matching cards (a $20.00 value).

Go to GALLERY.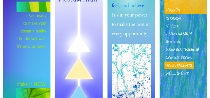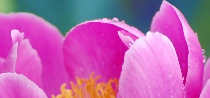 The Divine Love Triptych is based on the historical art form of three-panel paintings traditionally used for altarpieces. It is equally beautiful in a living room and a public space. Inspirational statements on the topics of (from left to right) Protection, Grace, and Service are reminders of the power divine love has to improve our lives.

Posters are printed on high quality glossy paper with outstanding longevity. It produces beautiful photographs with bright whites and vivid colors. Other media are available by special order, including gallery-quality pearl, opalescent, and luster papers and canvas.

13 x 19 inches or custom sizes. Available individually at regular price, and as a set of three at 15% introductory discount through July 2012.

Designed to hang side by side as shown.

"
Protection.
God's love bathes us in the light of protection."

"
Grace.
Divine love lights a flame within us that burns pure and bright and opens the heart to grace."

"
Service.
Inspired by divine love, a full heart has much to give."

Veterans' groups, churches, and other non-profit organizations receive the 15% discount all year with a tax-exemption certificate. For details, please
EMAIL US.